JOSEPH SYDDALL ARTIST 1863 – 1942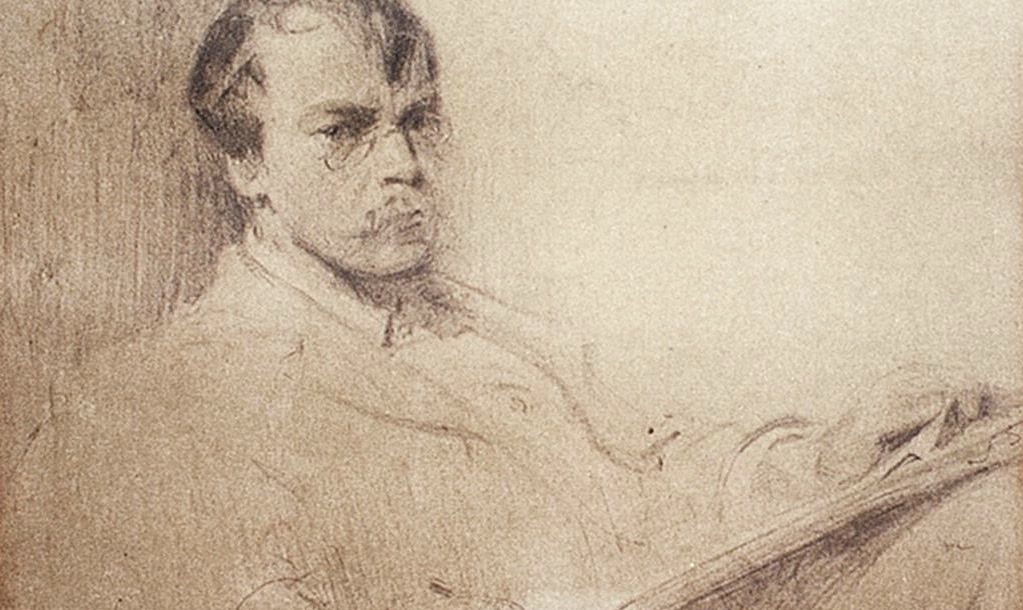 Joseph Syddall was the son of Samuel a master carpenter, born in Old Whittington, Chesterfield on 5th June 1863 and baptised at St. Bartholomew's Old Whittington in September 1863. He was educated locally and initially worked as a clerk in a solicitor's office in Chesterfield and joined classes at Chesterfield Central School of Art, where in 1887 he won a National Book Prize from the Science and Art Department, South Kensington.The first annual distribution of prizes for the school took place in December 1887 when Joseph Syddall won a prize for the best study of a head from the antique.The headmaster of the school Mr Harris went on to say that: One of the most successful students of the school – to whom the highest Government prize has been awarded that the school has obtained -has the honour conferred upon him of being admitted as student into the Herkomer School in Bushey, Herts.
His obvious artistic abilities were recognised by Mary Swanwick, a patron of his village school, who offered to fund his place at Art School.
Sir Hubert von Herkomer (the celebrated German born British painter, illustrator and early pioneer of film) praised Syddall for his excellent pencil drawings and proclaimed him to be 'the best draughtsman in England'. Along with two other students, Herkomer chose Syddall to illustrate Thomas Hardy's Tess of the D'Urbervilles when it was published in the Graphic Magazine in 1891.
The Victorian Web website has a list of all the illustrations used in the story together with links to the art used and artist.
His pencil drawings earned him election as a member of the Royal Academy, a prestigious achievement. It is recorded though that although he is most well-known for his exquisite pencil drawings, he also showed great skill when working in oil.
After completing his time at Bushey he returned to Old Whittington and set up his own studio. From here he continued to work at his art, describing himself on different census as 'draughtsman', 'landscape painter' and 'Painter (Artist)'.
He also gave drawing lessons to the young ladies of the town.
In 1914 an exhibition of his work was held in Chesterfield which was described in the local paper 'The Courier' 11th April 1914 – ART EXHIBITION AT CHESTERFIELD – Whittington Artist's Beautiful Work. 'Under the auspices of the Chesterfield branch of the Workers' Educational Association, an art exhibition of exceptional interest is remaining open for a short season in theToynbee Room at the Settlement,Vicar Lane, Chesterfield.
"The work on view, numbering about 60 examples, has all been done by Mr. J. Syddall of the Studios, New Whittington, and for those hitherto unaware of the artist's ability, is a revelation in all-round technique and general excellence. Mr. Syddall, who studied under the late Sir Hubert Von Herkomer, at the Bushey Park School, has an extraordinary command over his gift. His studies range from the most delicate pencil drawings over sepia, water colour, pastel, and oils to copper plate engraving and modelling. In these he shows a fidelity in drawing – as attested by familiar figures and places – which gives his work a particular view, and in at least two of his colourings,'Chesterfield by Night' and 'Viewing the Fireworks' his ability in effect is surprising. In the former he has merged the town in sombre tones and yet preserved its individuality – the pin points of light being cleverly introduced, and in the latter, the reflected hues of group of rocket stars on a night crowd being wonderfully caught. Among the local figure studies a large equestrienne subject – Miss Deacon, daughter of Mr. Maurice Deacon, of the Sheepbridge Works, mounted on a splendid black hunter, is full of life and charm. A pastel painting of Miss Gratton, daughter of Mr. Richard Gratton also shows warm and artistic treatment, and light, unconventional pencil drawings of Mr. and Mrs. E. R. Morris, of Chesterfield, and the Rev. H.T. A. Peacoy are exquisite in their way.Whilst formerly engaged in a studio in Kensington, it is understood that Mr. Syddall was eminently successful in portraiture, but in the work on view pencil drawing makes the strongest general appeal. Some of his heads, particularly of elderly people and street types, are quite arresting, and his study of the late Sir Hubert, drawn from life at Bushey Park, is a further exposition of his power to seize expression and 'mood'. Landscapes in varied lights, a bird's head, rich in sheens, a bit of Venice, a pastel study of an old farm kitchen at night, book illustrations (including two of the six done for Hardy's 'Tess
of the D'Urbervilles'), a copper plate etching of St. Bartholomew's Church Whittington, in 1879, broadly suggested oil scenes, and two perfectly arranged and lettered addresses – one to Mr. E.D. Swanwick, M.A., for his services to the Chesterfield Students'Association, and another to Mr. Geo. Broomhead, on retiring from the position of warden, after 27 years' service – are among other exhibits, and as the collection is being maintained in the Toynbee Rooms over the holidays, everyone with the least inclination to art in its pictorial aspect, should take advantage of seeing what the Whittington artist has generously loaned to help the Association in its educational work."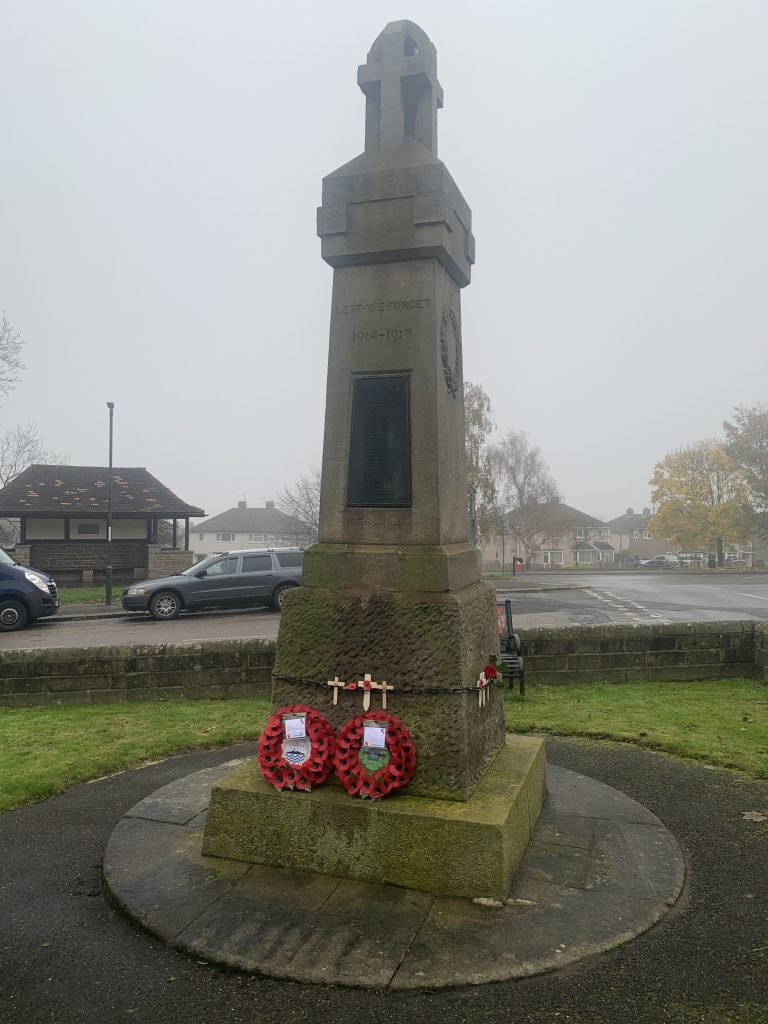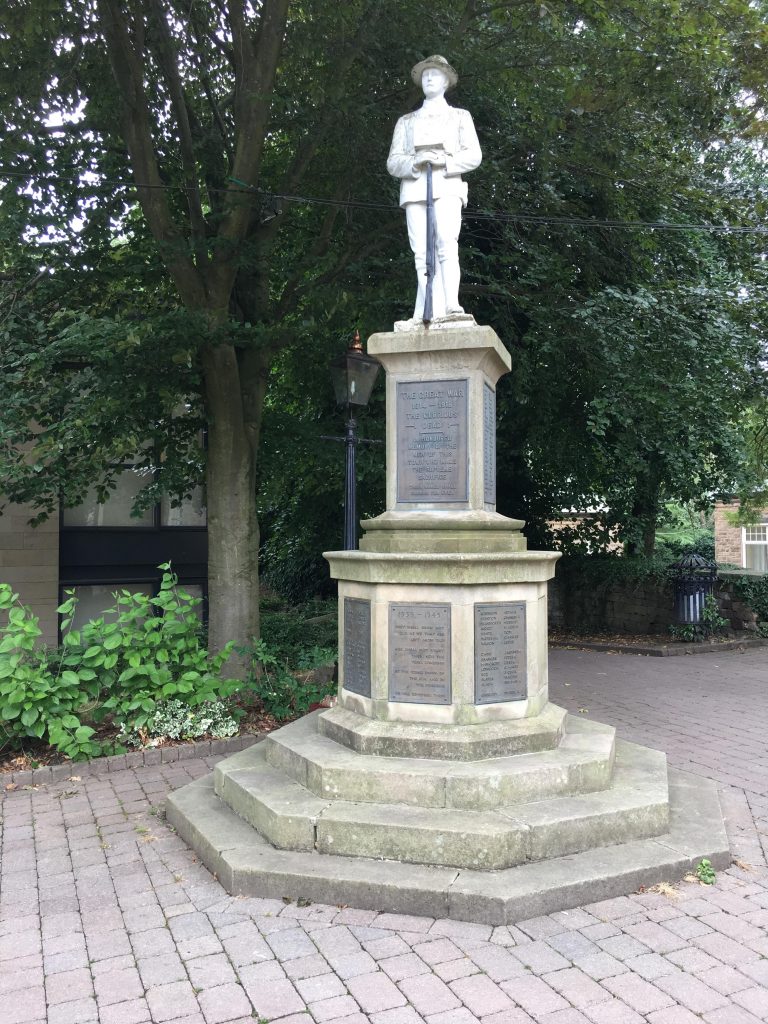 During his time in Old Whittington he also designed the War Memorials for the village and for Dronfield.
Whilst at Bushey he had met fellow student Annea Spong (Annie Eliza Spong 1870 – 1957) and in 1920 he left Chesterfield to set up home with her in Adelaide Road, Hampstead an area known for artists and writers at the time. Annea was a student and then a teacher of the Isadora Duncan school of Natural Movement of dance. She was also an ardent suffragette and three of her sisters are listed in the records of suffragettes imprisoned for acts they carried out. She went on to have her own school of Dance.
Joseph exhibited three paintings at the Royal Academy: Miss A. E. Spong (1898), Portrait of a Gentleman (1899), and Miss Eric Byron (1904).
Tragedy struck for Joseph when, in the London Blitz, five of his friends were killed and much of his studio destroyed with a great number of his works. He died shortly afterwards, aged 78, on 13 January 1942.
On his death in 1942, he bequeathed his works to Annea who, in turn, donated much of it to the Borough and is now in the Chesterfield Museum and Art Gallery.
A retrospective exhibition was held in Chesterfield, 1985. His work is held by the Chesterfield Museum and Art Gallery, with further examples in the V&A Museum and the British Museum.
In writing this acknowledgements must go to;
The Courier 11/4/1914
The Journal of the Friends of Bushey Museum New Series No.15 Winter 2017
The Joseph Syddall Collection Leaflet Chesterfield Museum and Art Gallery
A LISTING OF HIS WORK WE HAVE BEEN ABLE TO IDENTIFY CAN BE FOUND HERE
Family Details
Father – Samuel (1820-1898)
Mother – Julia (Baxby) (1823-1881)
Sister – Sarah (1854-1900)
Brother – Edmund (1857-1915)
Brother – George (1858-?)
Sister – Elizabeth (1860-?)
Sister – Ann (1867-1940)
We have recently uncovered an article in a magazine 'Brown's Bookstall' dated 1897. It was in a section titled 'At the sign of the brush and pen – being notes on the Black and White Artists of today'
The article written by 'J.G.R. takes the form of an interview the author acknowledges that this is not the usual format for his writings and I wonder if that is because he wasn't quite sure of Joseph and I don't think he (Joseph) took the interview very seriously.
We do learn that he took to drawing as soon as he could hold a chalk and he goes on to explain that he commenced life as a pavement artist and mural decorator. He acknowledges that he received "the best University education the village could afford. Ground and polished in fact at the college down the road".
He also tells a story about a picture he had at the Royal Academy and that 'a fellow came along and and put a figure in it and then put his name to it'
The other things we learn are that he also enjoys making furniture "in fact I am a draughtsman, engraver, wood carver, and joiner by turns"
I have been able to scan the pages below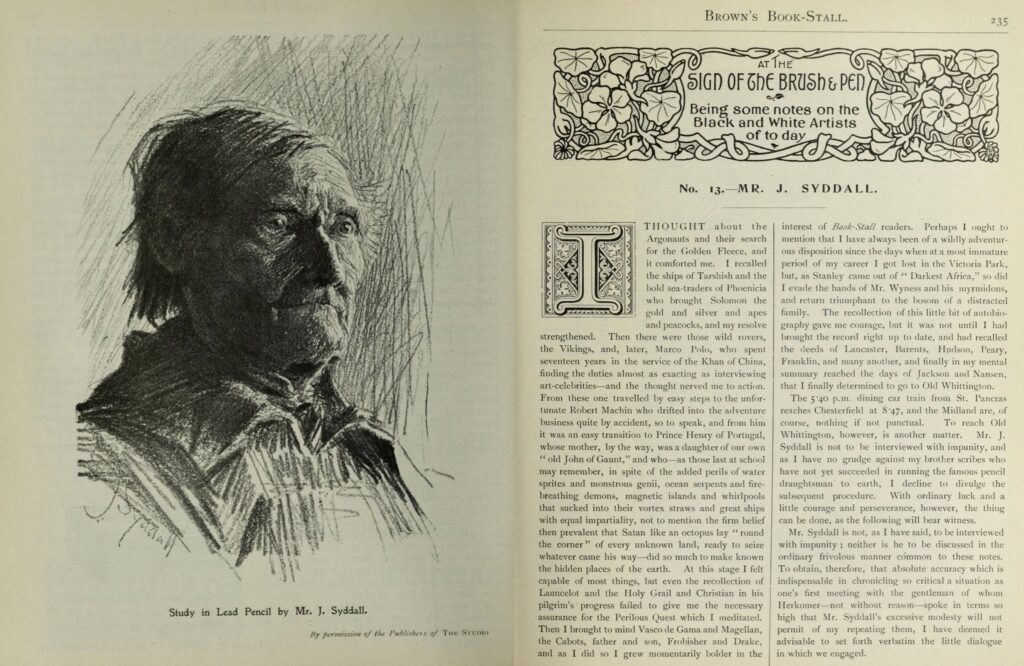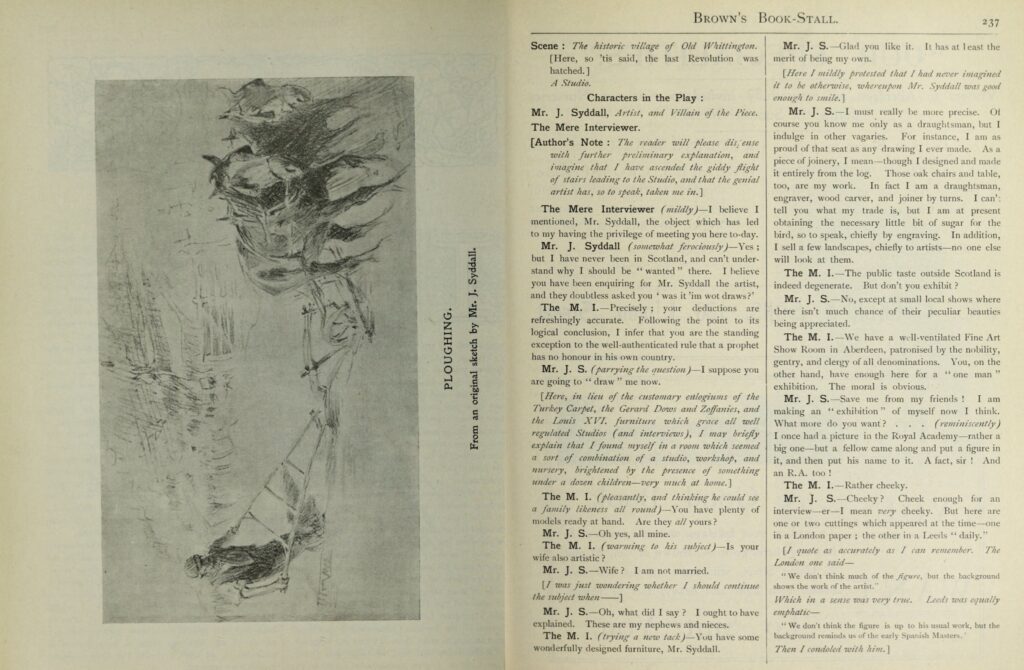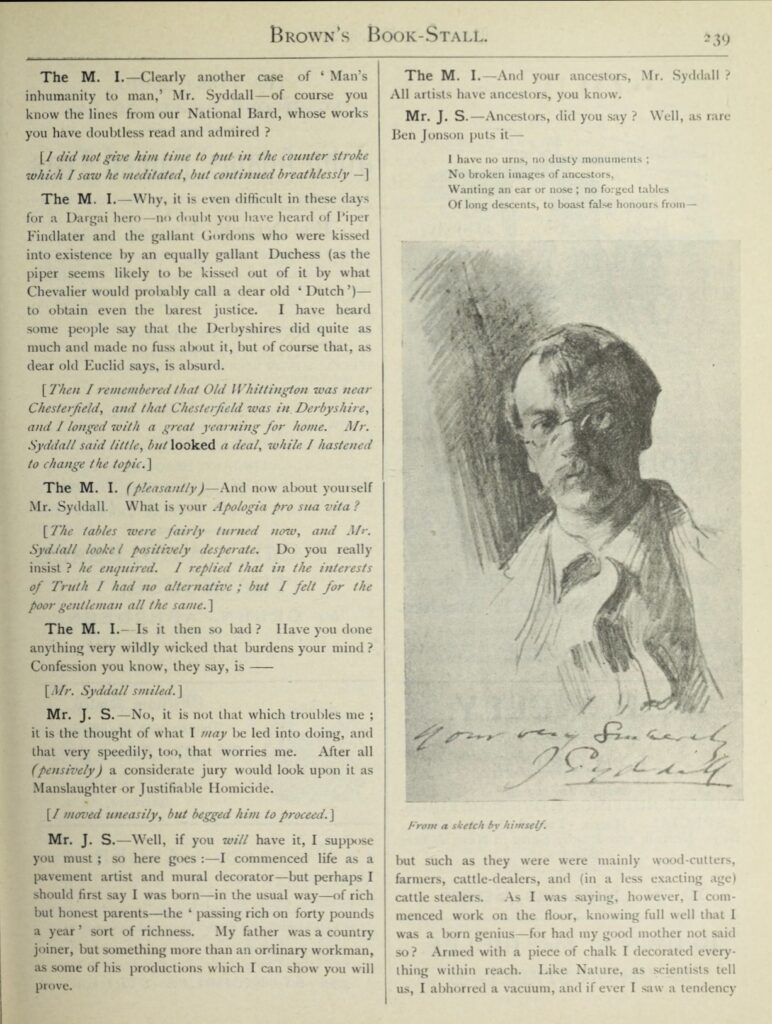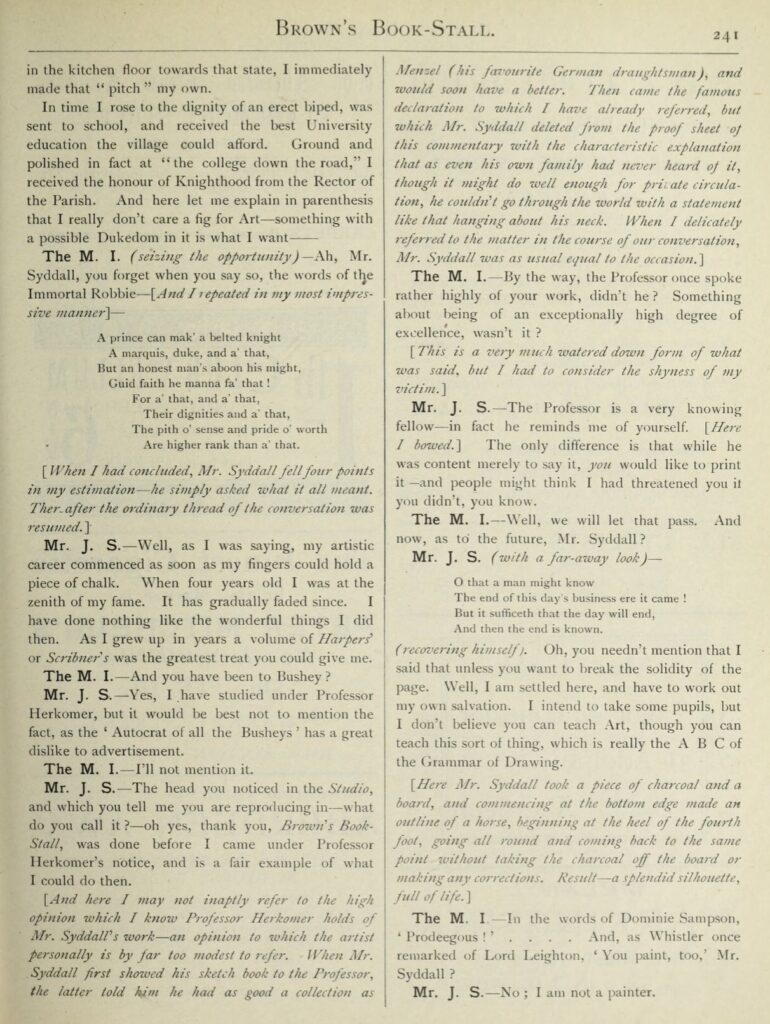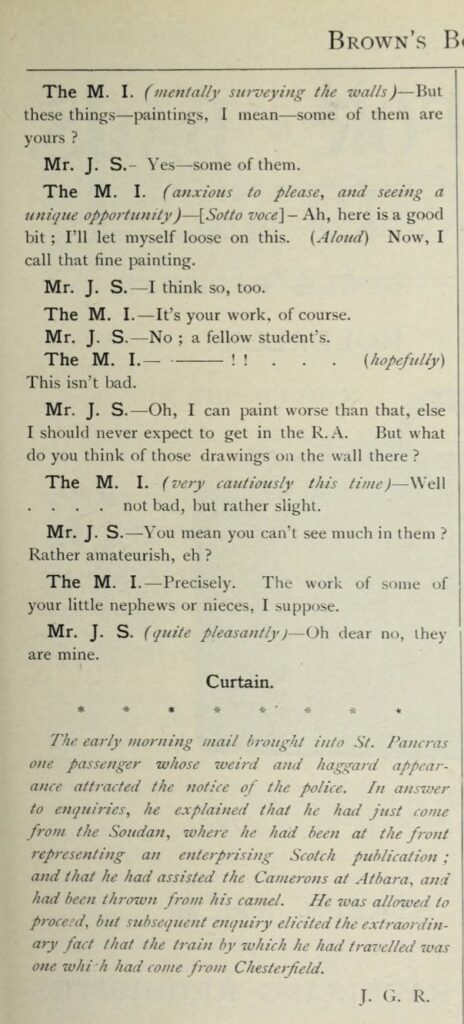 Further research shows that the interviewer was the artist J Grant Reid
With thanks to the Internet Archive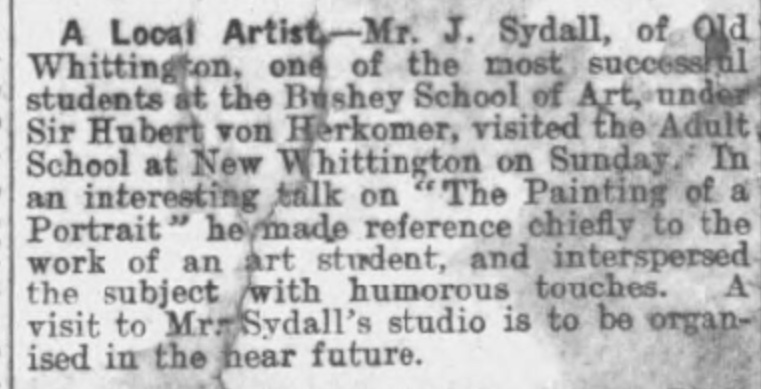 This article in The Sheffield Daily Telegraph Feb 1897 records that some of Josephs' work is featured in 'The Studio' magazine