The Webster family have featured in the history of Whittington quite considerbly with a real interest in he education of local children and supporting the Parish church of Saint Bartholomew. With that in mind I have researched the family and added notes and where necessary my reasoning.
The first Webster I have found having lived in Whittington is Nicholas Webster who was married to Anne Woodward. They were both born in the early 1560's. It is likely that Nicholas was a Clothworker [1]The Clothworkers' Company was founded in 1528 and their aim was to promote the craft of clothworking, supervise the training of apprentices and welfare of members, and protect standards of … Continue reading like many of the Webster family. [2]There was a Nicholas Webster who served as the Mayor of Chesterfield in 1611. Whether this is the same Nicholas we don't know, this was at a time when any local citizen, with support could … Continue reading
Nicholas and Anne had 6 children Dorothy (b.1584), Ann (b.1586), Godfrey (b.1588), Sarah (b.1590), Peter (b.1593) and John (b.1596). The 3 brothers went on to be enrolled as Clothmakers and Peter was a Master to a number of the Webster extended family. [3]A Godfrey Webster served as mayor of Chesterfield for 1620-21
Peter is best known in Whittington mainly through his generosity in providing funds for local schools. On leaving Whittington Peter went to live in the Parish of St. Laurence, Pountney in the City of London. [4]At the time the City of London was referred to as 'the square mile' The records show that Peter was involved within the church life of St.Laurence having served as Churchwarden and as treasurer on a number of occasions. Peter was treasurer in 1666 when the church of St.Laurence was burnt down in the Great Fire. [5]Interestingly there was a witness statement that suggested a fire was seen in the tower of the church before the fire had reached that part of the city. In any event the church was never rebuilt.
Following the fire a trust fund was set up with Peter being one of the trustees.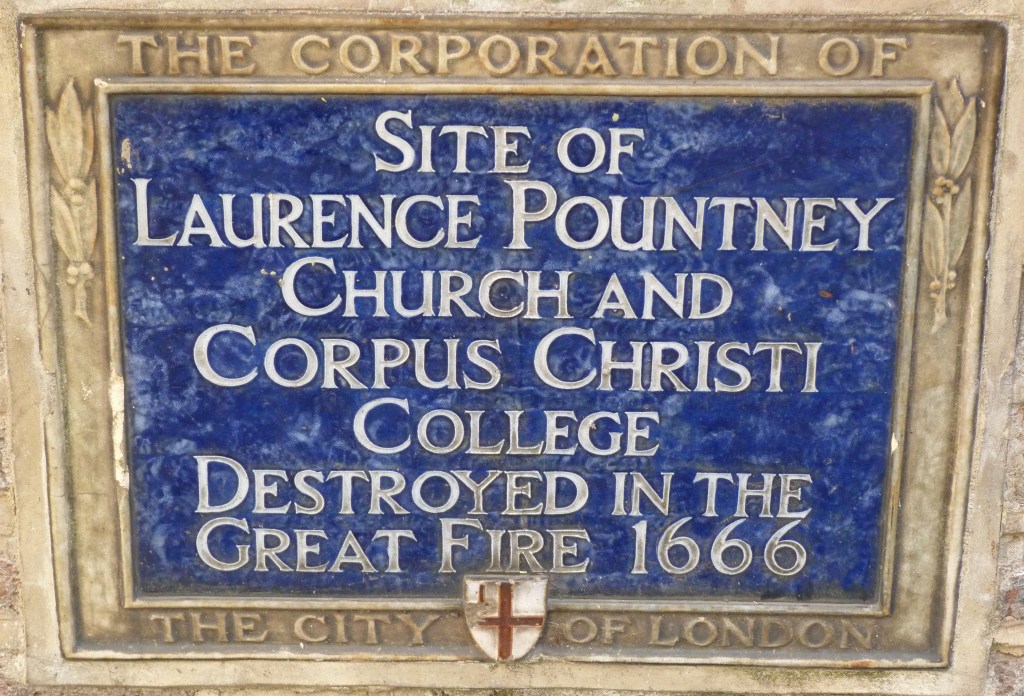 Peter married Anne Fusser at Hackington in Kent on 16th October 1628. They had 10 children Mary (b.1630), Martha (b.1631-d.1633), Anne (b.1632-d.1633), Sarah (b.1632), John (b.1634-d.1634), Elizabeth (b.1638-d.1674), Rebeccah (b.1639-d.1639), Joseph (b.1642-d.1642), Joshua (b.1644) and James (b.1647-d.1660) sadly as can be seen a number died in early infancy.
Peter was said to be a good business man and as well as his clothing work he owned a number of land/properties. As already noted Peter was very generous with his wealth and left money in his will to purchase land to set up schools in Whittington and a home and salary for a schoolmaster. [6]Full details of Peter's will can be seen on the Ellis Crompton's page The first school to be built was thought to be within the church boundry wall at the south west end.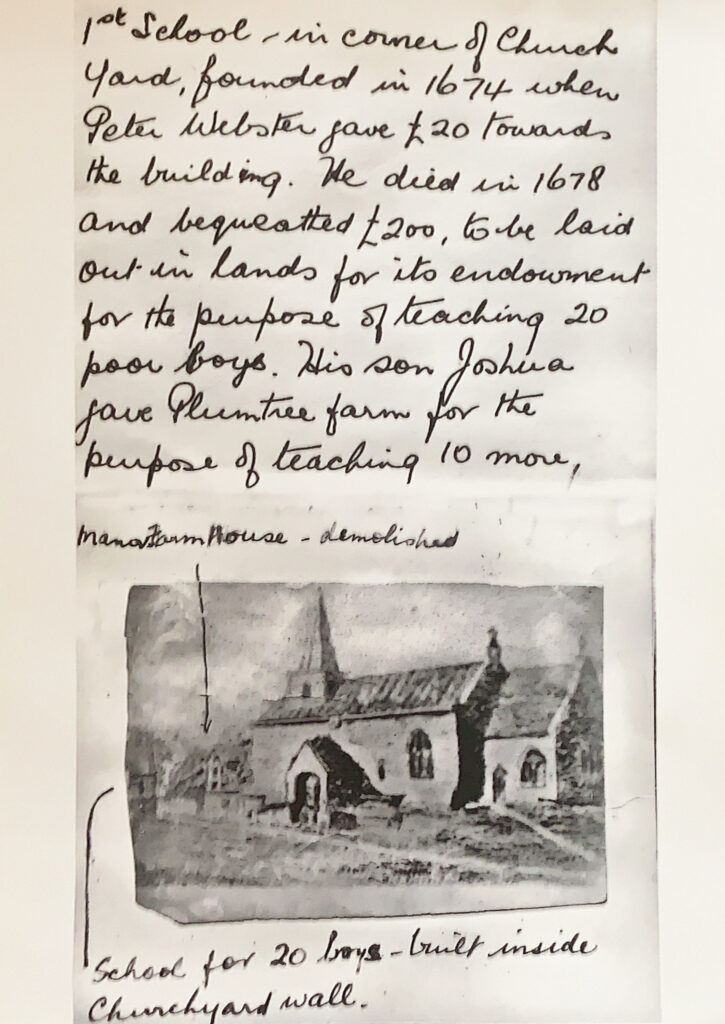 Peter also attended St. Bartholomews in Old Whittington when he visited the area, records show he had a seat allocated to him on the seating plan of the time.
Peter died in 1677 and was in the churchyard of St.Laurence, Poutney [7]The churchyard is now within a private property
Joshua Webster, son of Peter, also bequeathed in 1696 land including Plumtree Farm 'for the educating of ten poor children of the Parish of Whittington. [8]More details of Joshua's will can be found on Ellis Crompton's page Joshua was born in Poutney and married his wife Mary Farrer in 1667 at St. Dukes Place London. They had four children Mary (b.1668), Anne (b.1669), Joshua (b.1671) and Peter (b.1673).
Another bequest was made this time from Peter, son of Joshua, (known as Peter Webster the Younger of Croydon). In his will of 4th April 1750 he left '£600 on trust, to be placed out at interest, on good government security, and the dividends thereof to be paid to six such poor people of the said Parish'. [9]In 1755 the sum of £585-7s-6d was used to purchase £600 stock in the new South Sea annuities in the name of Rev.Samuel Pegge, the Rector, and four others, the then churchwardens and overseers of … Continue reading [10]There is still a Charity in the name of the Webster's – the Webster Whittington School Charities which provides small grants to school levers from Whittington going on to further … Continue reading
Peter the Younger also gave a Flagon and Paten, bearing date 1753, inscribed as follows :-
To God and ye Church of Whittington
Peter Webster of Croydon, Esq.,
the munificent Son & Grandson of
a munificent Father & Grandfather
both great Benefactors
to this Parish
gave this Flagon; also Plate A.D. 1753.
Another descendent of this family line is Godfrey Webster born around 1650 and who went on to knighted in 1708. There is much debate around who were the parents of Godfrey. [11]There is a suggestion that he came from the Yorkshire line of Websters, I have discounted that on the basis that he refers in his will as to having lived in Chesterfield. The debate then moves to … Continue reading We do know that Godfrey served as an appretice to his uncle Peter. It is said he accumlated his wealth very early. He went on to be Master of the Clothworkers Company in 1695.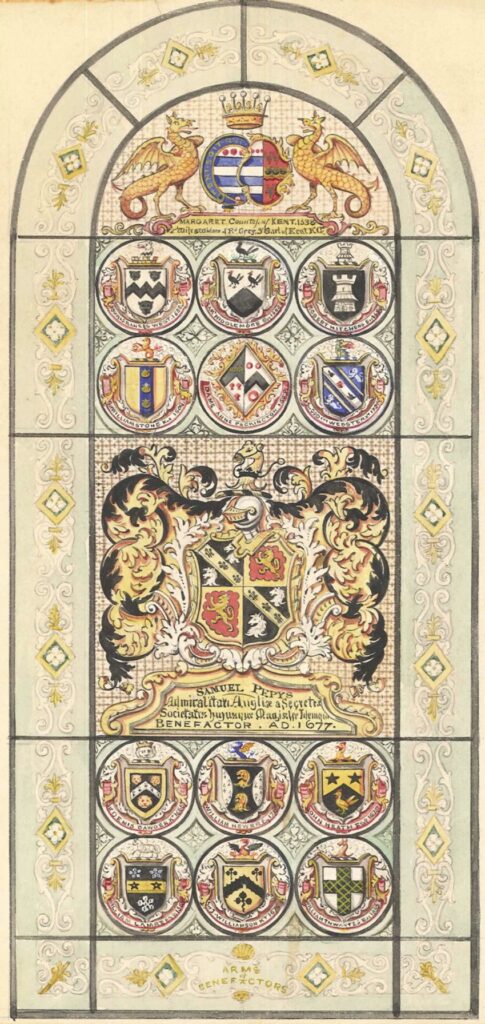 He purchased the Manor House at Nelmes and in 1672 married Abigail Jorden. [12]He owned other properties including the 'Great James Tavern' on Bishopsgate St. London which was a frequent haunt of Samuel Pepys and features in his diary. Godfrey was known for importing hemp from Russia which assisted him amass his fortune. [13]This must have been a big business as Sir Godfrey was lobbying ministers for protection of 16 ships and masters he employed importing hemp It is said that he was rich enough to provide a loan to William III following the Revolution of 1688-9 (another link back to Whittington). In return the King gave him a lucrative contract to supply clothing to the army and hemp to the navy.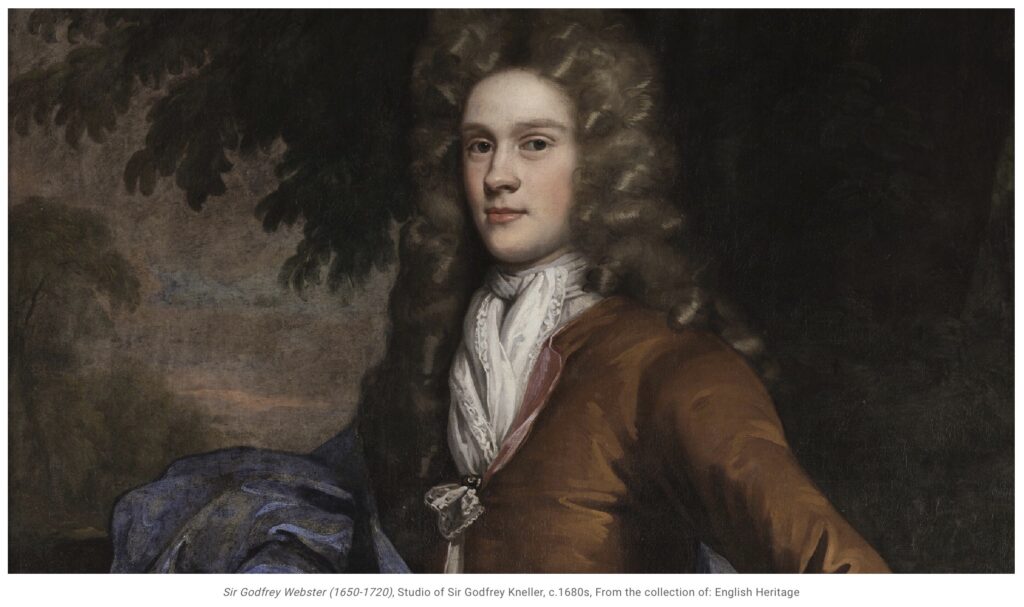 Thomas, the eldest son of Sir Godfrey was born in 1679, he married Jane Cheeke, the daughter of a prosperous soap maker, with whom he had five children. Jane later inherited a great deal of wealth [14]from her father and grandfather, Henry Whistler. Thomas purchased Battle Place which was in a poor state of repair but he refurbished it and renamed it Battle Abbey. Thomas was also elected as MP for Colchester.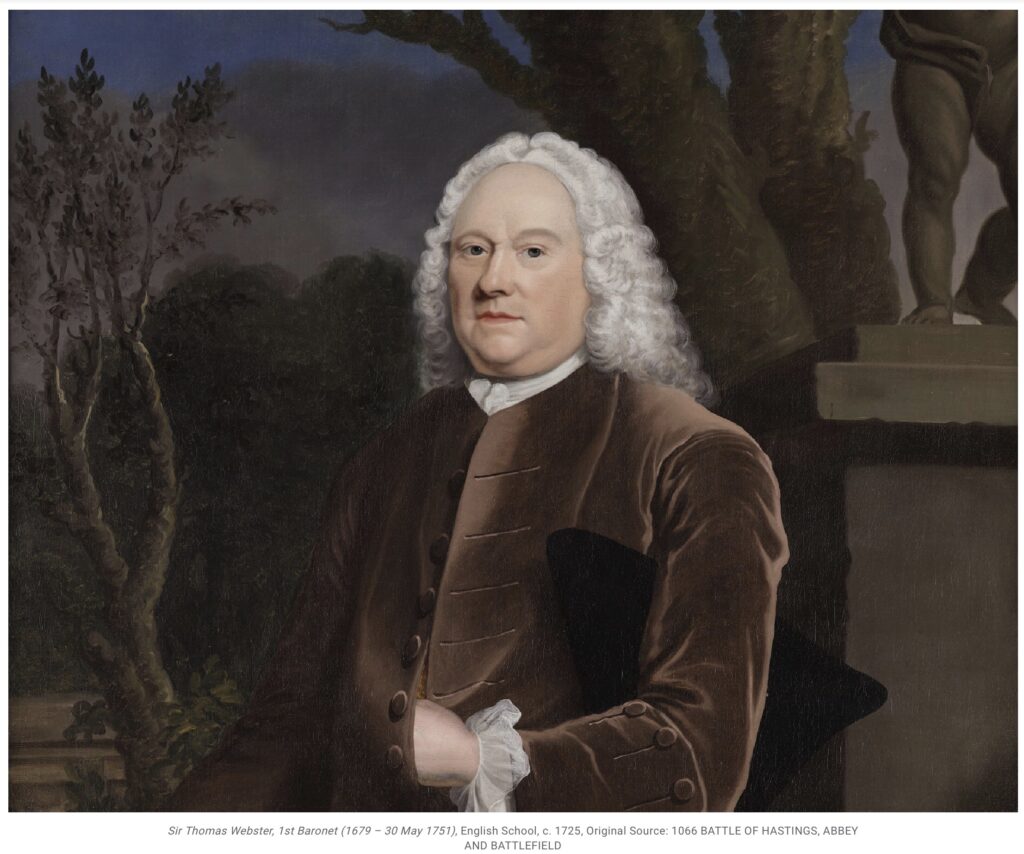 Much more can be found out about the Websters as associated with Battle Abbey here
It is believed Sir Godfrey died in 1720. In his will as well as other benefactors he gave £1000 for the poor of Chesterfield and to his Sister Anne wife of Samuel Phipps of Chesterfield a shoemaker. [15]A Samuel Phipps is recorded as having a shop on Shoemakers Row in the Shambles in Chesterfield
References

↑

1
The Clothworkers' Company was founded in 1528 and their aim was to promote the craft of clothworking, supervise the training of apprentices and welfare of members, and protect standards of workmanship. It was recognised as one of the 'Great Twelve Livery Companies of the City of London

↑

2
There was a Nicholas Webster who served as the Mayor of Chesterfield in 1611. Whether this is the same Nicholas we don't know, this was at a time when any local citizen, with support could serve as mayor (this changed with the 1933 Local Government Act when only elected members could serve as mayor

↑

3
A Godfrey Webster served as mayor of Chesterfield for 1620-21

↑

4
At the time the City of London was referred to as 'the square mile'

↑

5
Interestingly there was a witness statement that suggested a fire was seen in the tower of the church before the fire had reached that part of the city. In any event the church was never rebuilt.

↑

6
Full details of Peter's will can be seen on the Ellis Crompton's page

↑

7
The churchyard is now within a private property

↑

8
More details of Joshua's will can be found on Ellis Crompton's page

↑

9
In 1755 the sum of £585-7s-6d was used to purchase £600 stock in the new South Sea annuities in the name of Rev.Samuel Pegge, the Rector, and four others, the then churchwardens and overseers of Whittington more details are on the Ellis Crompton page

↑

10
There is still a Charity in the name of the Webster's – the Webster Whittington School Charities which provides small grants to school levers from Whittington going on to further education. For more information see the Webster Whittington School Charities Facebook page.

↑

11
There is a suggestion that he came from the Yorkshire line of Websters, I have discounted that on the basis that he refers in his will as to having lived in Chesterfield. The debate then moves to whether he was the son of Godfrey, Peter or John (all sons of Nicholas as noted). I have discounted Peter as I am as sure as I can be that I have accounted for all Peter's children. Based on an entry in the Clothworkers records many believe that Godfrey was the son of Godfrey. This is complicated because there was a number of Godfrey Websters at the time and an entry made much later linking the two has been questioned. Meanwhile a Percival Boyd compiled records titled 'Inhabitants of London' this comprised a collection of 70,000 handwritten sheets covering the 16th to the 18th century. It is said he was painstaking in his research. He concluded that Godfrey was the son of John and Margaret Webster.

↑

12
He owned other properties including the 'Great James Tavern' on Bishopsgate St. London which was a frequent haunt of Samuel Pepys and features in his diary.

↑

13
This must have been a big business as Sir Godfrey was lobbying ministers for protection of 16 ships and masters he employed importing hemp

↑

14
from her father and grandfather, Henry Whistler

↑

15
A Samuel Phipps is recorded as having a shop on Shoemakers Row in the Shambles in Chesterfield