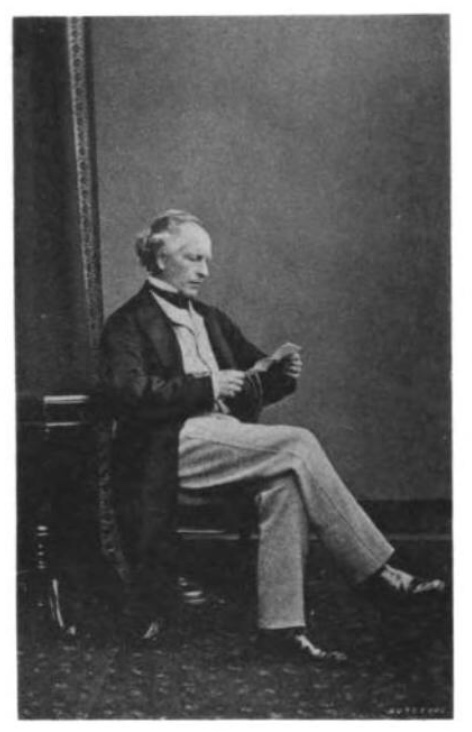 Frederick Swanwick was born on the 1st October 1810 in Chester the son of Joseph and Hannah
In 1826, at the age of seventeen, he enrolled at the University of Edinburgh to study mathematics, natural philosophy and geology. He developed a strong interest in civil engineering and via family connections he assisted with the building of Grosvenor Bridge at Chester. This in turn led to an introduction to George Stephenson.
Aged nineteen, he was indentured to George Stephenson for "four years and eight months from 5 October 1829 in the occupation or business of a civil engineer," and went to live with him at his home with the other apprentices.
He assisted Stephenson in building the Liverpool and Manchester Railway and he drove one of the engines, "Arrow," as part of the opening ceremony and which drew the first passenger train. Later it is said that Stephenson delegated to him the entire work of building the horse-drawn Whitby and Pickering Railway, which opened on 26 May 1836.
The Act for the North Midland Railway was obtained in 1836, and Frederick Swanwick became acting engineer, with Stephenson, concentrating in exploiting the coal in Leicestershire and in Clay Cross.
Though tremendously busy, he set great store by his family life. In 1836 he lived at Norton Lees on the outskirts of Sheffield but in 1837 he moved to Whittington, and invited his father , mother and sister to join him, with his maiden aunts, the Misses Wicksteed, to live nearby.
Census records show that the family lived in various addresses in Old Whittington but their main residence was Whittington House.
On 21 July 1840 he married Elizabeth Drayton, fourth child of Mr. William Drayton, of Leicester. They had 2 children
Mary born 13th July 1841 and
Russell born April 1843
From about 1850 he began wind down from his work as a civil engineer He had for some time been a supporter of benevolent schemes including the support of various schools in Chesterfield and Whittington, and the Chesterfield and North Derbyshire Hospital.
Frederick was also the driving force behind the building of the Market Hall in Chesterfield which opened in 1857. More details can be found on the Chesterfield Museum website
The Institute of Civil Engineers has a detailed obituary to Frederick in their virtual library which outlines some of his work.
A detailed listing of his work with George Stephenson is given on the following page.
Daughter Mary supported Fredrick in his support for local communities and took special interest in the school in Old Whittington becoming its Patron.
Whittington Council School, originally built in 1848, was renamed the "Mary Swanwick Community Primary School" when it was re-opened on July 4th 1932
Mary became involved with many clubs and societies in Whittington.
Mary died on 7th April 1917 and was interred at Chesterfield Cemetery following a service at Elder Yard Chapel which Miss Swanwick had actively involved with for many years.
The Derbyshire Courier on Saturday 14th April 1917 noted in their obituary 'A Life of Public Service'
"There were few ladies in the northern part of the County who were better known than Miss Swanwick. For many years she was a member of the Education Committee of Derbyshire County Council……As a matter of fact, education was one of her chief interests in life, and, like her father before her, she gave herself whole-heartedly to its cause."
They carry on "she was one of the managers of the Whittington Council Schools, which, before the County Council assumed control, belonged to the Webster's Trustees, of whom she was one. The high standard of efficiency for which these schools have always been noted was due in large measure to the unfailing interest which she had taken in the management."
"Amongst her manifold activities, Miss Swanwick was a member for over 20 years of the Chesterfield Board of Guardians, and few members have devoted more time and thoughtful considerations to the numerous subjects affecting the welfare of the poor. She was indeed a 'guardian of the poor' in its fullest sense and probably nobody but the poor themselves knew what a true friend they had in her".
A nephew of Mary, Eric Drayton Swanwick, qualified as a solicitor and came to live with her. He later married Margery Eleanor Norton. Both were involved in the community and the life of St.Bartholomew's. Eric also was heavily involved with the scout movement being County Commissioner 1939 – 1947 he was presented with the 'Silver Wolf' and counted Lord Baden Powell as one of his friends.
Eric was also to be seen pumping the water when helping the local fire fighters in attempt to quell the fire engulfing the church in 1895.
Interestingly his involvement with the scouts is remembered on his gravestone in the churchyard of St.Bartholomew's.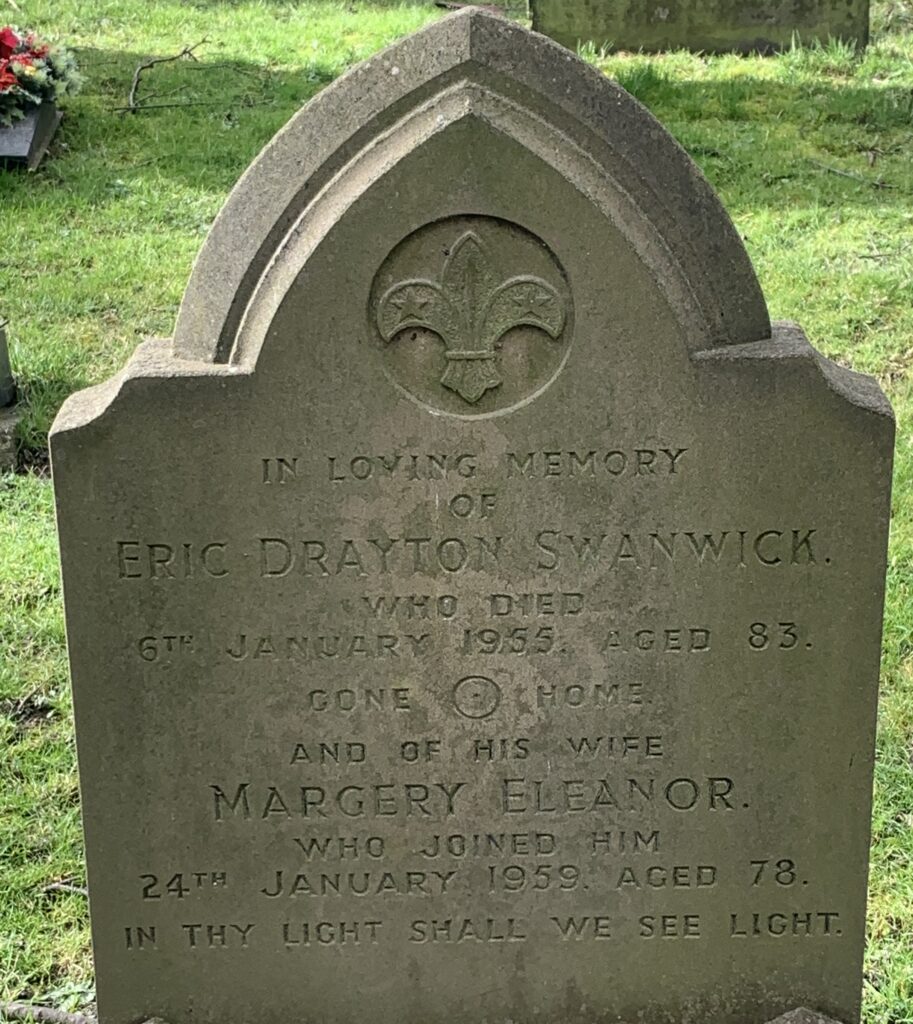 P.S. Frederick died on 15th November 1885 and was buried in Chesterfield churchyard.
Acknowledgement
Smith, J. Frederick (John Frederick), fl. 1869-1923. Frederick Swanwick: a Sketch. [Edinburgh]: printed for private circulation, 1888.
Grace's Guide to British Industrial History has an interesting article on Frederick
The Facebook pages of the Liverpool and Manchester Railway Trust have reference to Frederick and the 'Arrow'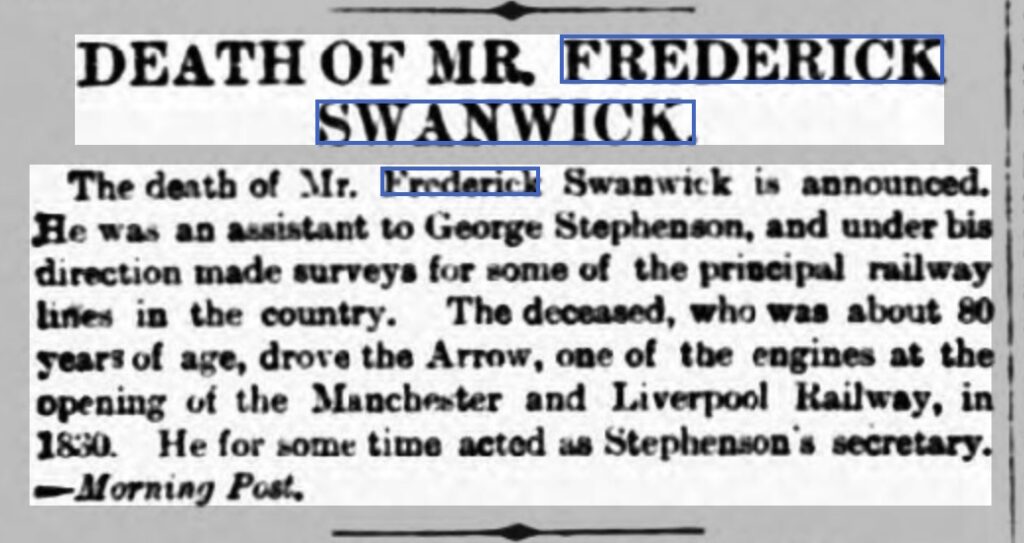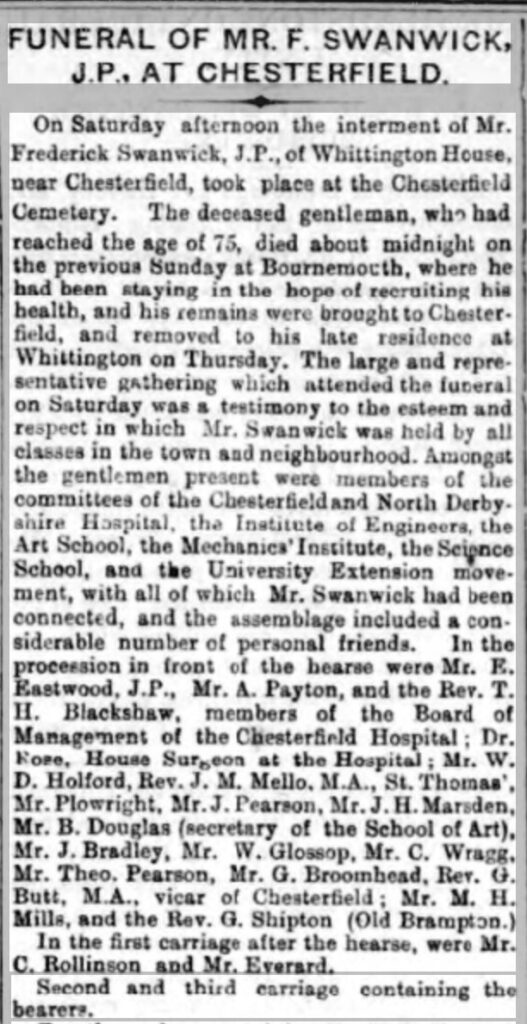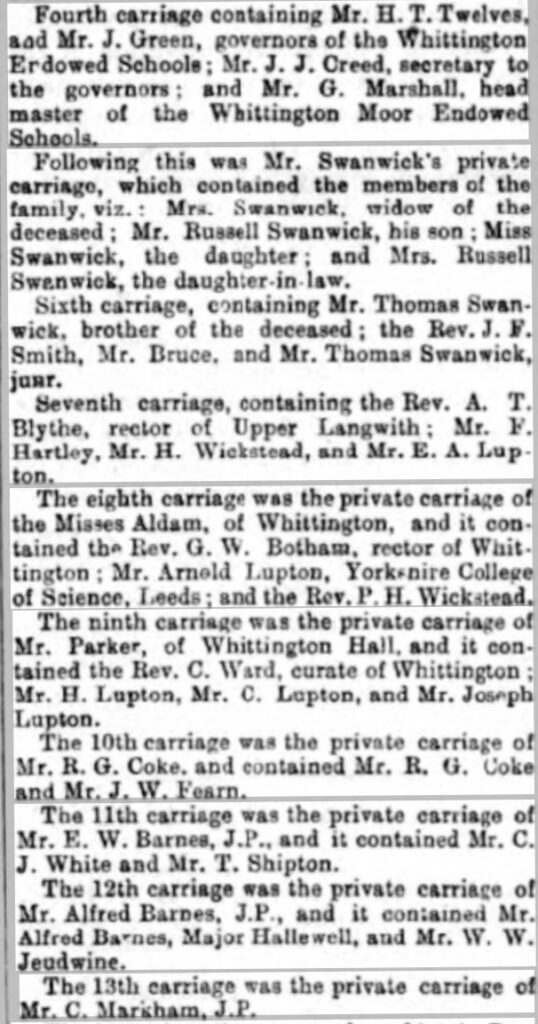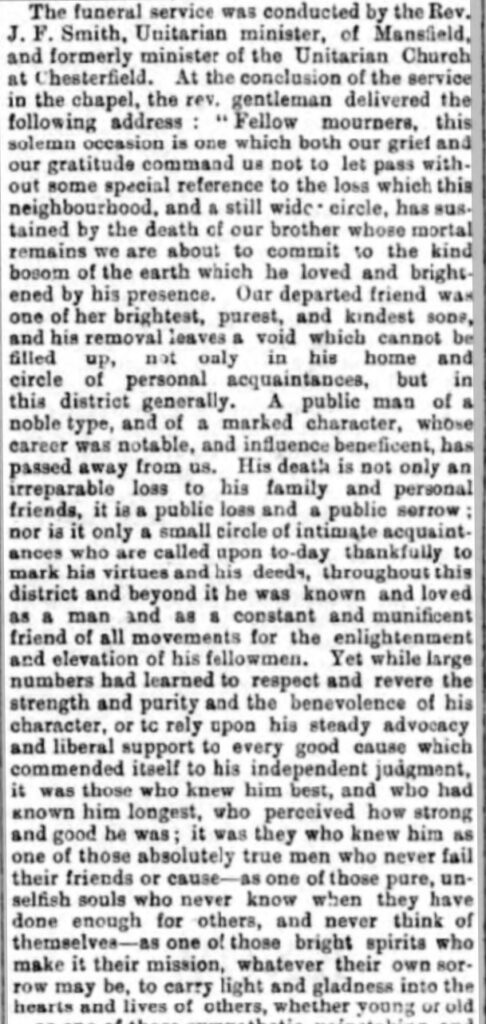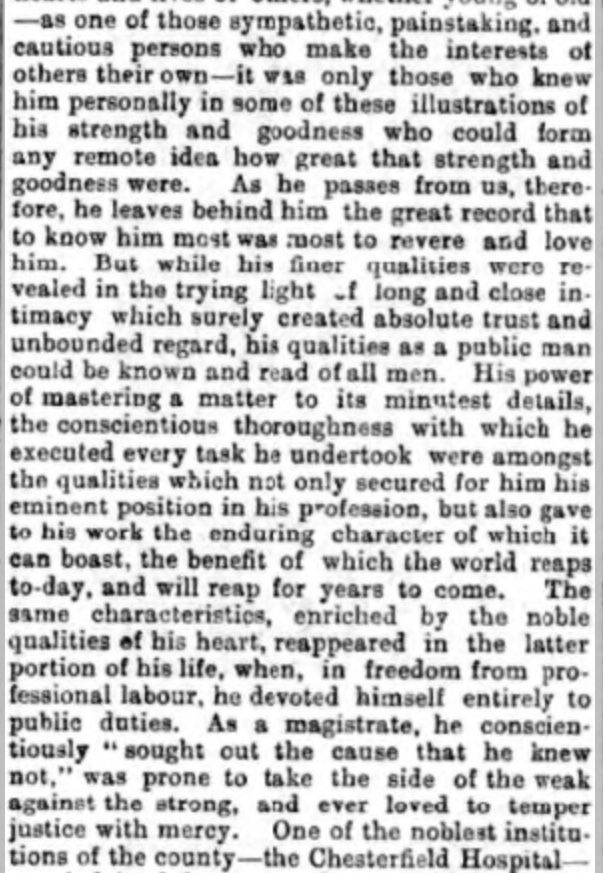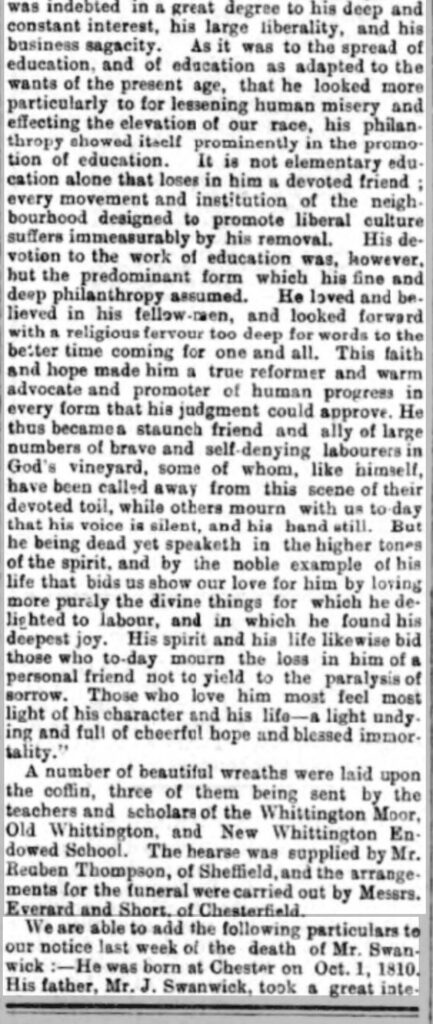 From 'The Derbyshire Courier' 28/11/1885